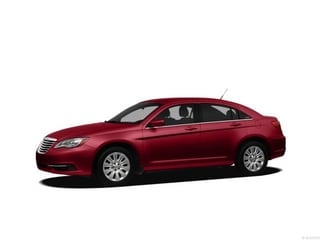 Chrysler 200 - A New Classic
While the American automobile market has been consistently offering cars with new and innovative features on the inside, some consumers have lodged complaints about the lack of inspiring design on the outside. With smooth curves and a lack of sharp angles defining most vehicle designs on the market from a variety of manufacturers, not many cars stand out of the crowd. That is, unless the 2012 Chrysler 200 rolls onto the scene. The designs at Chrysler wanted to make it obvious that the 2012 edition of the 200 was in a class of its own, and they began sending the message with a striking appearance. With a blend of sharp lines and crisp curves, the 2012 Chrysler 200 exudes an air of elegance not often found in vehicles costing less than six figures. With a sophisticated grille design and a balanced look overall, the 2012 Chrysler 200 is sure to turn heads. You can find out for yourself by visiting Lou Fusz Chrysler Jeep Dodge in St. Louis, as the 200 is in stock.
Check Chrysler 200 Inventory
But the Chrysler 200 isn't all about appearances, as there is plenty of substance to back up the looks. Chrysler took a hard look at previous iterations of the 200 when designing the 2012 edition, and improved upon the handling and performance to help set the sedan apart. As a result, the 2012 Chrysler 200 offers drivers a V6 engine with 283 horsepower, the most available in its class. The smooth engine blasts past under-powered competitors yet still manages to afford drivers with impressive fuel economy. With an EPA-estimated 30 miles per gallon on the highway and 21 miles per gallon in the city, the 2012 Chrysler 200 manages to produce more power with better fuel economy than other comparable sedans. As a result, the 2012 edition of the 200 is reliable and preferable for a broad variety of driving tasks, from a daily commute to longer road trips.
With a six-speed automatic transmission, the 2012 Chrysler 200 provides a smooth ride, and even the powerful engine can't be heard in the ultra-quiet cabin. The handling is responsive and firm, with a feeling of comfortable control even at higher speeds, on slick roads or tight curves. Braking is firm and steady, with the 2012 Chrysler 200 equipped with stability control, traction control, anti-lock brakes and emergency braking assist as standard features.
While the performance of the 2012 Chrysler 200 is a strong draw, the manufacturer did not forget that this can be used as a family sedan, albeit a sporty, sophisticated one. Thus, in addition to offering driving fun, Chrysler provided the 2012 Chrysler 200 with a strong suite of safety features. All trim levels feature standard active headrests and dual front, side and curtain airbags. With tire pressure monitoring, child seat anchors, and whiplash protection systems, this model is a pick families can trust. In fact, the Insurance Institute for Highway Safety rated it a Top Safety Pick due to its high ratings in all tested categories.
And the 2012 Chrysler 200 not only keeps families safe but can keep them entertained and comfortable, as well. Air conditioning and interior air filtration are standard, as are reading lights, steering wheel audio controls, and an auxiliary audio jack. Options ranging from satellite radio, Bluetooth connectivity, and audio system hard drive to automatic climate control, sunroof, leather seating, DVD drive and heated front seats are available, so the vehicle can be customized to quite an extent. Visit Lou Fusz Chrysler Jeep Dodge in St. Louis for full details on available options. The dealership is a short drive from St. Charles, O'Fallon, Ballwin and Chesterfield.
Click for Current Chrysler 200 Inventory
Discover other Chrysler cars and minivans
Chrysler 300C
- True luxury while combining V8 strength and top comfort for a smooth ride.
Chrysler Town and Country
- Luxury minivan with the flexibility of Swivel and Go seating.