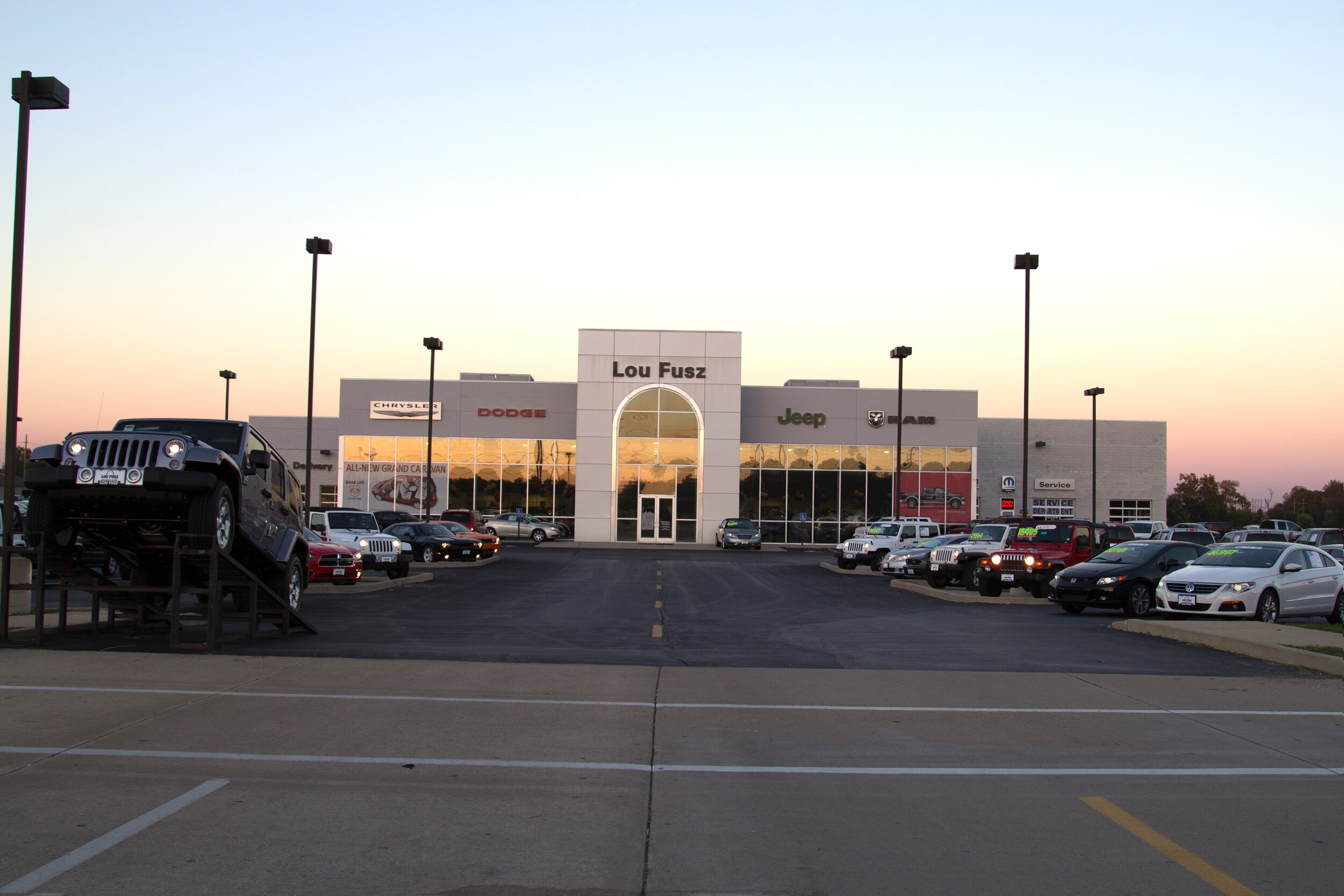 From New  and Pre-owned  Chrysler, Dodge and Jeep vehicles to auto loans to OEM car parts, Lou Fusz Chrysler Jeep Dodge really is your one-stop full service dealership. Our experienced staff has the experience and expertise to point you in the right direction, whether you need vehicle repair, financial assistance, a new car or anything else. Our friendly team is happy to serve customers throughout Greater St. Louis, St. Charles, MO, Madison, IL and St. Clair, IL.  Our hospitality and award winning customer service knows no boundaries.  We can help local St. Louis car buyers and we also have a commercial St. Louis dealer team ready to help serve local business needs.  Come and see our impressive dealership at 3480 Highway K, or simply call us at 877-348-8100. We look forward to helping you!
Discover Chrysler cars and minivans
Chrysler 200
- Great midsize car with many features and impressive safety ratings
Chrysler 300C
- True luxury while combining V8 strength and top comfort for a smooth ride.
Chrysler Town and Country
- Luxury minivan with the flexibility of Swivel and Go seating.
Uncover Dodge cars and SUVs
Dodge Avenger
- Sporty 5 passenger car with great features including a top entertainment system.
Dodge Challenger
- Reborn classic car with 470HP engine, 27 Hwy mpg & performance steering.
Dodge Charger
- Full size sedan car with 8 speed transmission and 31 Highway MPG.
Dodge Durango
- 4X4 SUV seating seven and 7,400 lbs towing power.
Dodge Grand Caravan
- Power and value with this 292 HP five passenger car and 31 HWY mpg.
Dodge Journey
- Great value for this seven passenger midsize crossover.
Explore Ram trucks and vans
Ram 1500
- Powerful engine with an easy 20 highway MPG and over 10,400 lbs towing capacity.
Ram 2500
- Strong truck with a 15,500 maximum trailer weight.
Ram 3500
- Powerful truck with large interior mega cab availability.
Ram Cargo Van
- Heavy suspension with larger payload & cargo capacity than the competition.
Discover Jeep SUVs and crossovers
Jeep Compass
- Compact 4x4 crossover, this all weather warrior offers 29 hwy mpg.
Jeep Grand Cherokee
- Most awarded SUV providing luxury and 4x4 capability.
Jeep Patriot
- Great value SUV with rugged styling and strong safety features.
Jeep Liberty
- SUV with a comfortable ride and a powerful V6 engine.
Jeep Wrangler
- Sporty SUV with true off road capabilities and solid safety features.
Jeep Wrangler Unlimited
- Combines strong V6 performance with improved gas mileage.