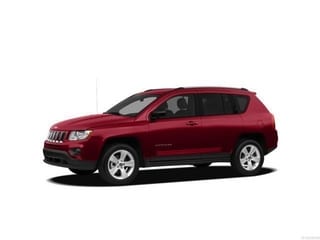 Jeep Compass: Performance and Sophistication
When many people hear about vehicles made by Jeep, their first notion is to picture a vehicle that is rugged and sporty, but may not have the most to offer in terms of class, comfort or sophistication. However, Lou Fusz Chrysler Jeep Dodge in O'Fallon has been proudly showing off the latest models, including the 2012 Jeep Compass, in an effort to show St. Louis area residents that Jeep is a complex brand that provides a broad range of benefits, from off-road power to in-cabin sophistication. A perfect example of this is the 2012 Jeep Compass, which has wowed visitors to Lou Fusz - many made the drive from St. Charles, Chesterfield, and Ballwin just to see this particular model.
Given the reaction to the 2012 Jeep Compass, it seems that the brand has a hit on its hands. The 2012 edition of the Jeep Compass literally provides more to love than previous iterations, thanks to the introduction of three separate trim levels. All trim levels benefit from the enhanced sophistication bestowed upon the Compass through upgrades in materials and slight design tweaks to provide a more authoritative yet elegant appearance, similar to that of the Grand Cherokee. Of course, the 2012 Compass is in a class of its own, whether compared to other Jeep models or the SUV market in general. The 2012 Compass is a perfect example of what a crossover should be, as it ensures that drivers looking for versatility do not have to compromise.
Check Compass Inventory
Performance - The 2012 Compass is, like all Jeeps, capable of handling rugged terrain, and Jeep upgraded the continuously variable transmission to ensure that optimal performance is delivered no matter what the speed or conditions. The 2012 Compass offers a 158-horsepower rig or a 172-horsepower engine, and for those looking to maximize towing capability and off-road performance, the latter is preferable in part due to the additional torque it offers. Jeep also offers manual or automatic transmission options on the 2012 Compass, with the former offering slightly better fuel economy. However, even an automatic provides 27 mpg highway and 23 mpg in the city, which is stellar compared to most SUVs. This sedan-like fuel economy makes the 2012 Compass suitable for commutes and road trips alike.
Front-wheel and all-wheel drive options are available on the 2012 Compass, and separate towing and performance packages allow drivers to customize the model to a great degree.
Interior - While the 2012 Compass may seem masculine and rugged on the outside, it provides plenty of comfort and convenience on the inside, with heated mirrors, full power accessories, four-speaker audio system with auxiliary jack and keyless entry among the standard features. Taking a step up to the Latitude trim level provides leather-wrapped steering wheel, heated front seats, reclining rear seats, steering wheel audio controls and more. The highest trim level, the Limited, provides leather upholstery, satellite radio, a trip computer and automatic climate control, among other options. With convenience, comfort, and entertainment all adequately covered, the 2012 Compass is a great choice for families.
Safety - Although not an official 'safety' feature, the superb handling of the 2012 Compass allows drivers to help avoid accidents thanks to its responsiveness, and the ability to quickly brake and accelerate comes in handy both in the wilderness and in rush-hour traffic. Of course, the 2012 Jeep Compass also provides traditional safety features such as side curtain airbags, traction control, electronic roll mitigation, brake assist and a stability system. Arguably, the 2012 Compass should be prepared for anything the pavement can throw at you, as it is designed to handle rougher terrain with ease.
The 2012 Compass certainly looks great on paper, but it takes a test drive to really get a feel for the vehicle. Lou Fusz Chrysler Jeep Dodge in O'Fallon has a number of 2012 Compass models on the lot, so make the short drive from St. Louis, St. Charles, Ballwin or Chesterfield and experience the all-new Compass today.
Click for Current Jeep Compass Inventory
Discover more Jeep SUVs and crossovers
Jeep Grand Cherokee
- Most awarded SUV providing luxury and 4x4 capability.
Jeep Patriot
- Great value SUV with rugged styling and strong safety features.
Jeep Liberty
- SUV with a comfortable ride and a powerful V6 engine.
Jeep Wrangler
- Sporty SUV with true off road capabilities and solid safety features.
Jeep Wrangler Unlimited
- Combines strong V6 performance with improved gas mileage.