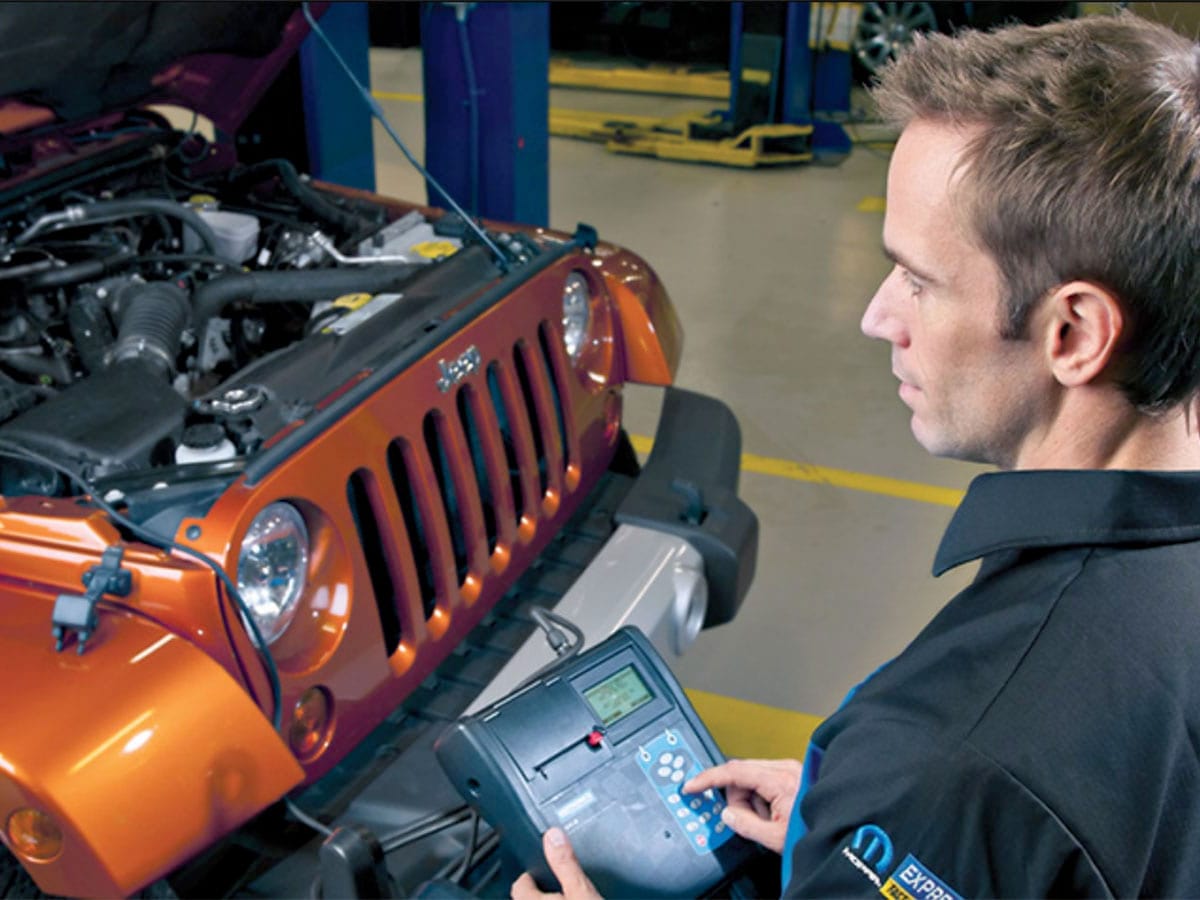 Charging System Inspection & Testing in O'Fallon, MO
Your vehicle's charging system consists of the battery, voltage regulator, and alternator. Each of these three pieces depends heavily on each other, and if one goes bad your car will not run. It is hard to tell what the problem is when your car breaks down so it is a good idea to bring your car to Lou Fusz Chrysler Dodge Jeep Ram in O'Fallon, MO and let our certified technicians use the latest technology to pinpoint the issue. The starter is also a key component of the entire electrical system, but the other three parts are what keeps you running and keeps your battery charged. The symptoms of each are very similar which is why it is hard to tell without using diagnostic equipment.
How Your Charging System Works
The charging system generates voltage and electrical power to run the vehicle's electrical system while the car is running. At highway speeds, the system produces all the power needed, and then the alternator can send excess power back to the battery to charge it. At slow speed, there is a combination of battery and generated power. The alternator sends power to the system or the battery. The voltage regulator keeps a steady output of voltage going out. The battery is sort of a cushion, providing power when needed and storing power to start the car later.
Trouble Starting Your Vehicle?
If you are having trouble getting your car to start, or if the check electric system light is flashing, you may have a charging system problem. Failing to take care of the issue will at some point result in your car not running. It will likely not start, and if it does, it will not continue running. If one of those components go all the way bad, you will not be able to get it started by using jumper cables and another car. Don't take the chance of being stranded and having to pay for a tow when you can bring it to us and get it checked out by professionals.
Lou Fusz Chrysler Dodge Jeep Ram Service Center
It is a good idea to get this checked annually, but if you are having trouble, it is a better idea to get it checked out by certified technicians. If you live around St. Louis, bring your car into our service department at Lou Fusz Chrysler Dodge Jeep Ram. We also welcome customers from St. Peters, MO, and Chesterfield, MO. We have service contracts available, but we will see you about a problem with your car at any time. We have Saturday hours, and early-bird hours as well for your convenience. We offer rental vehicles and shuttle service if you have to leave your car with us. At the dealership, you can also be assured you are getting genuine Mopar Parts and Accessories. We also have free wifi for our customers to use, and we speak Spanish. St. Louis Dodge service center.